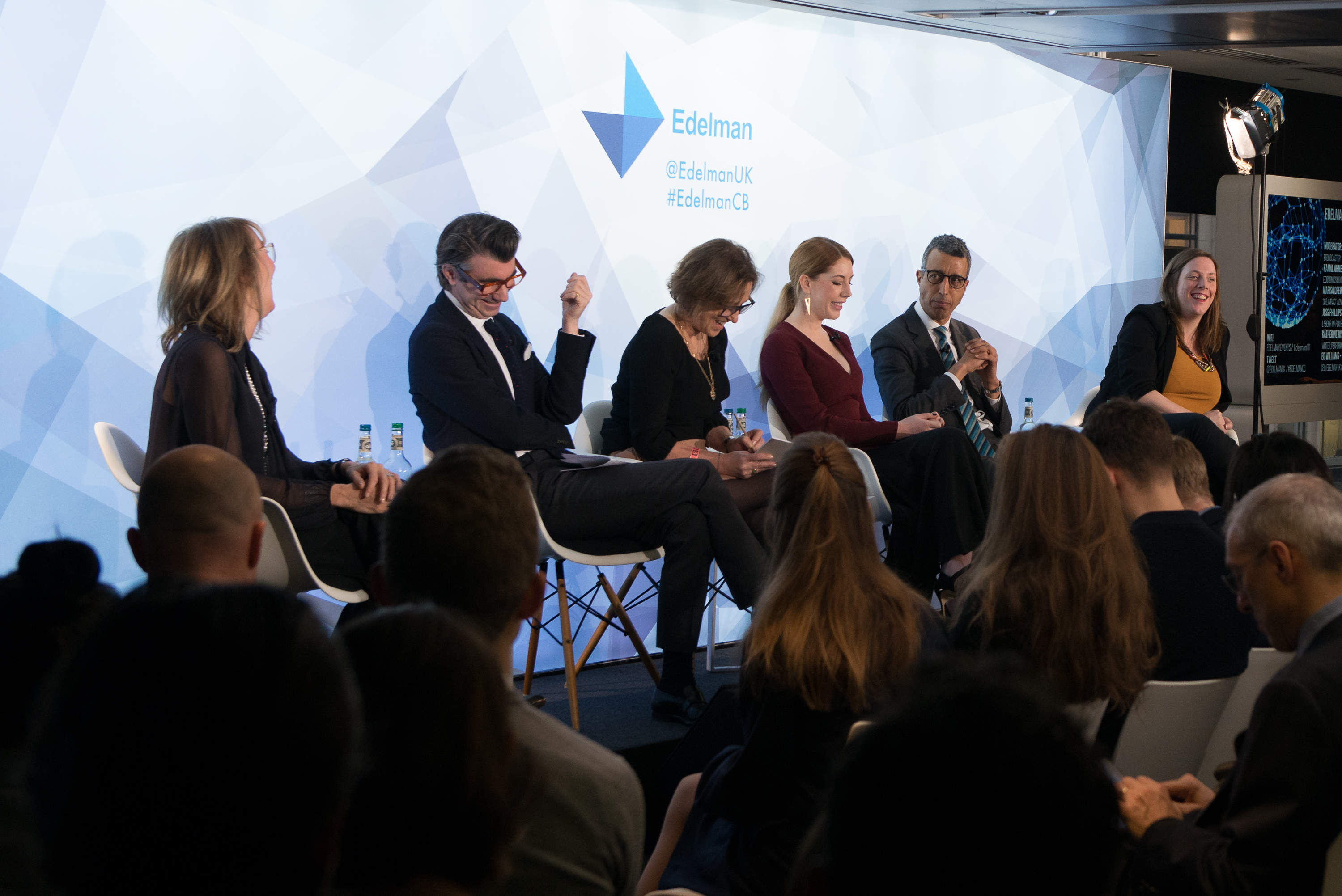 2017 has been a year of reflection and transition. The UK continues to decide if it's one foot in, or both feet out of Europe. France elected a liberal outsider and Germany re-elected the incumbent – bucking the global trend. Most of the UK spent the summer gripped by Love Island, and as we welcomed the autumn, the gig economy was rocked by Uber's battle with TFL.
Every year, Edelman UK hosts the Crystal Ball, which pulls together a panel of notable figures from culture and society, to business and politics to make their predictions on trends, stories and events that will drive the headlines in 2018. On 5th December an impressive panel came together to gaze into the future of 2018.
This year's line up included: Katherine Ryan, Writer and Performer; Kamal Ahmed, Economics Editor, BBC; Marisa Drew, CEO, Impact Advisory & Financial, Credit Suisse; Jessica Phillips, Labour MP for Birmingham Yardley; Ed Williams, CEO, Edelman UK & Ireland. The discussion was moderated by Broadcaster Kirsty Wark.
A running theme throughout the discussion was the role of the younger generation and their impact on society particularly when it comes to activism and protecting the planet. They discussed how youth interest and support in ethical capitalism may in fact result in the end of the era of philanthropy. Probably unsurprisingly, Trump was a key topic of conversation, with panellists all in agreement that he was the best thing that's happened to journalism in 2017 and his ability to write the next morning's headlines for the media.
Other predictions include:
Another year of double digit increases in equity markets in 2018.
The voting age will fall to 16.
More celebrities will take a stand and will have a greater positive impact on political and societal issues.
The poorer are going to get poorer, although wage growth numbers will increase by the end of 2018.
The media will continue to normalise fascist extremism.
The effects of climate change will be on the rise, and largely ignored.
Theresa May will still be Prime Minister, although preparing to stand down.
The UK will remain in the European Single Market.
The rise of Corbyn has not yet reached its peak.
Voice technology will be an increasing nightmare for brands just like search engines were for news brands.
More women running unicorn companies out of silicon valley.
The current 3% rate of inflation to decrease by the end of 2018.
Productivity numbers to be higher by the end of next year through investment in infrastructure, digital and skills.
A 100% increase in investments in the sustainability.
Closing the event, a question was posed whether the rise of robots are driving fear and eroding jobs, however all panellists were all in agreement that ultimately robots are a help, not a hinderance. Maybe we'll see one on our panel next year….